Hi friends! I'm joining some of my best blogging buddies from The Primary Pack for a Black Friday celebration! We are sharing with you (a little early), a few of our most wish-listed items in our own carts and stores. We are also having a HUGE Black Friday giveaway featuring products from almost each member of The Primary Pack! Don't forget to enter at the bottom of this post!
First up, here are a few things from my own personal TPT wish list!
These are items that I am dying to get my hands on! I'm hoping there will be a huge TPT Black Friday sale so that I can scoop some of them up!
1. Say It! Clip It! By Creativity to the Core: I absolutely love hands-on activities for my students! This product seems like a great way to get them practicing their letter sounds!
2. Writing Station Activities For Young Learners By Teaching With Love And Laughter: Who isn't always looking for fun and engaging ways for their kiddos to get meaningful practice at the writing center? I am!
3. Be A Reading Expert By A Year Of Many Firsts: This looks like an amazing supplement to my foundational lessons for the Daily 5! I would love to have this resource for the beginning of the school year next year!
4/5. Super CVC Practice and Super CVCE Practice By Miss Kindergarten: Teaching students to decode CVC and CVCE words is such an important foundational skill. These practice bundles would be great hands-on practice for my kiddos!
6. Flipping For Phonics By Reagan Tunstall: Digraphs and blends are so tricky for my kinders to master. I love the idea of using these phonics books daily during my guided reading routine!
7. The Ultimate Spelling Bundle By Cara Carroll: Some more CVC and CVCE fun for my kinders! I love finding activities that they will WANT to do!
Here are some of the most wish-listed items and bestsellers from my TPT store! They will be 20% off on Black Friday!
1. Listening Center Snapshots: My most wish-listed item! Differentiated to meet the needs of all of your learners, these recording sheets are perfect for any listening center!
2. Writers' Workshop Just Add Kids: Everything you need to launch or support writers' workshop in your classroom! This packet contains all the anchor charts and handouts you will need- with no hassle for you!
3. Back To School Night Teacher Must-Haves: My best-selling product! Everything you could possibly think of to make your open house, visitation, or back to school night a success! Snag it now and save it for next year!
4. Write The Room Year Long Bundle: All 11 write the room units in one pack! Differentiated for use with all of your kiddos, this pack is perfect for the Daily 5, early finishers, or as a literacy center!
5. Positive Postcards: Don't you love letting parents know POSITIVE things about their children?! Strengthen home-school communication with these editable did bits of positivity!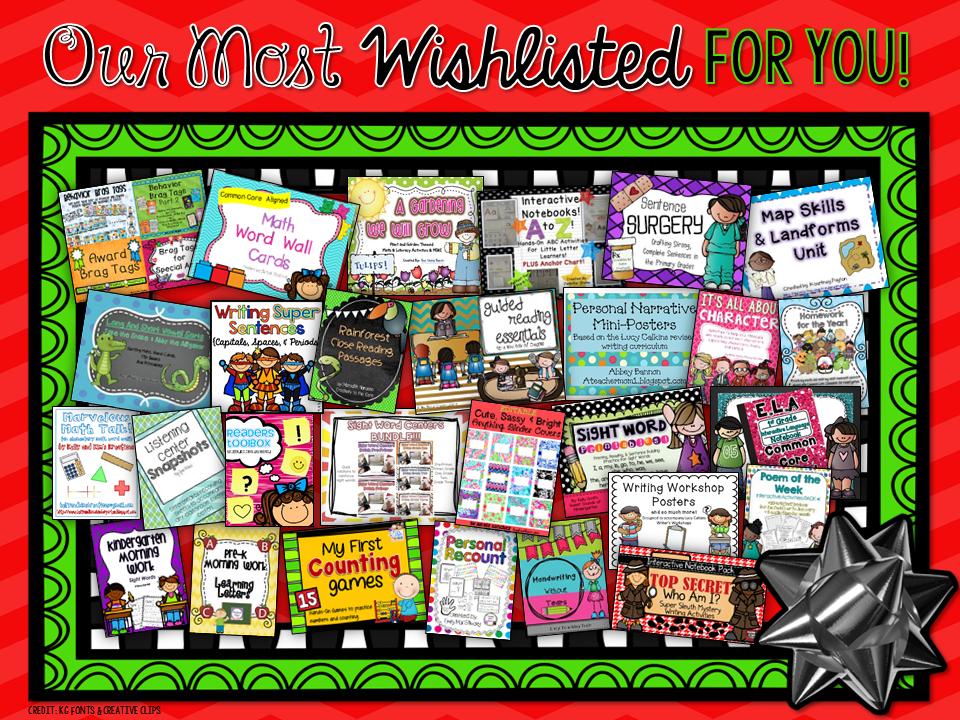 Drumroll please.... Check out this HUGE giveaway package you can win by entering below! There is a resource from almost everyone in The Primary Pack, perfect for all primary grades!! Good luck, friends and happy shopping!

a Rafflecopter giveaway



Now It's Your Turn To Join The Fun!

Just a few rules to follow and your on your way:
1. Download the images above!
2. Add your favorite sellers products in your TpT cart to the "My Black Friday Wishlist"
3. Add your own products to the "For Your Black Friday Wishlist"
4. Link up below to share your Black Friday Wishlists!
5. Don't forget to enter our fabulous giveaway above AND visit others linked up below!